Weekend trips are great. Not only do they give you something to look forward to during a hectic week at work, it re-energises you to face the long week ahead. So, what is not to love! While the idea of the actual getaway seems fun, packing for it, is not. Most people do the mistake of starting last minute and obviously leaving out some of the most important things in a rush. Here are some tips for minimalistic packing for a short trip.
Choose Mix & Match Clothing Pieces
Stop trying to wrack your brain last minute trying to find perfectly matching outfits. Instead, save energy by packing few pieces that you know for certain can be paired well. Then depending on the occasion, weather and mood you can decide later.
Pack Appropriate Footwear
This depends on the type of getaway. For example, a pair of lightweight trail runners or trainers would be a must for a hiking trip. If it is just a simple, relaxing getaway by the beach, you would want to couple your black evening bag with a pair of tropical sandals for a candle lit dinner on the beach. The key to taking the right footwear is versatility.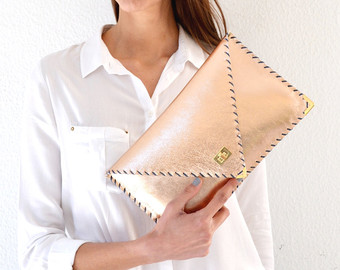 Check the Weather
In the excitement of things, you might forget to check what the weather forecast is like in the area you wish to go. You would not want it to rain on your perfect beach getaway. On the flip side, it will also help you prepare and pick out the right items suitable for the expected weather conditions.
Don't Forget the Accessories
At a time where taking good photos on holidays mean everything, you would not want to leave out key items that complete your look. Make sure to throw in your signature shades, dangly earrings, bracelets and your new favourite rose gold clutch for a cheeky night out. Other must-have items must also not be forgotten, like packing a hat and sunblock for a beachy getaway and carrying spare plastic bags to store away wet clothes after a swim.
Roll, Not Fold
A great tip for packing is to roll all possible items as it saves up so much space. It also minimises the chances of wrinkles. Start off by packing all the heavy, rugged items such as coats, jackets, jeans and towels at the bottom. Fill in small gaps with items such as underwear and socks as tiny as they may seem are vital to feeling comfortable. Finally, place the lighter items that are more likely to get crushed on the top.